Oct 9 2010 – Saturday
Did not sleep well last night, very loud at the Flying J. Finally found a nice campground at the Usery Mountain Park. Very nice and quiet. The sites are a lot more private than most RV parks that we've seen so far. There are cactus everywhere. Several types in our spot.
The showers are clean and private, which is very nice. Elec/water hookup which is also great, and it is only $25 per night. They were having a buy one get one free special, so we got a nice spot (#42) with an awesome view for 2 nights. We really love it here.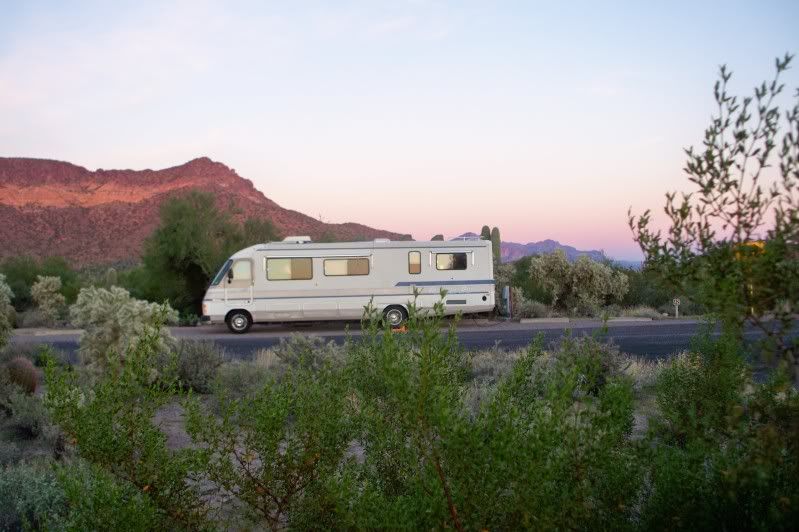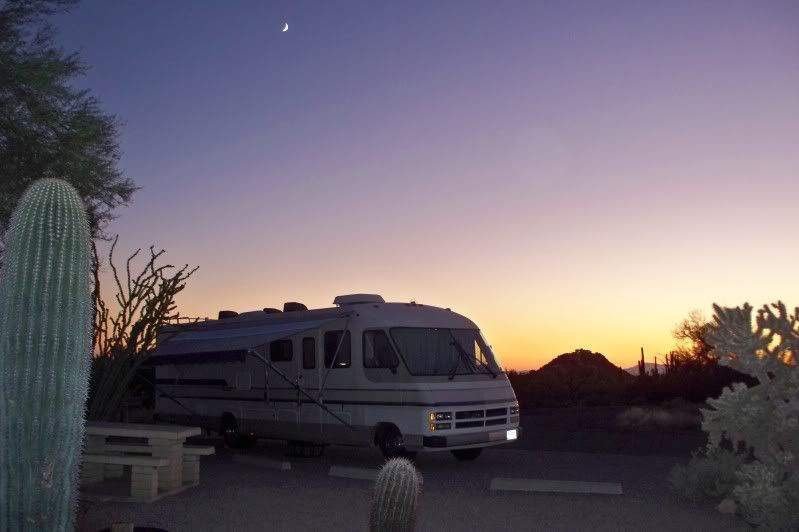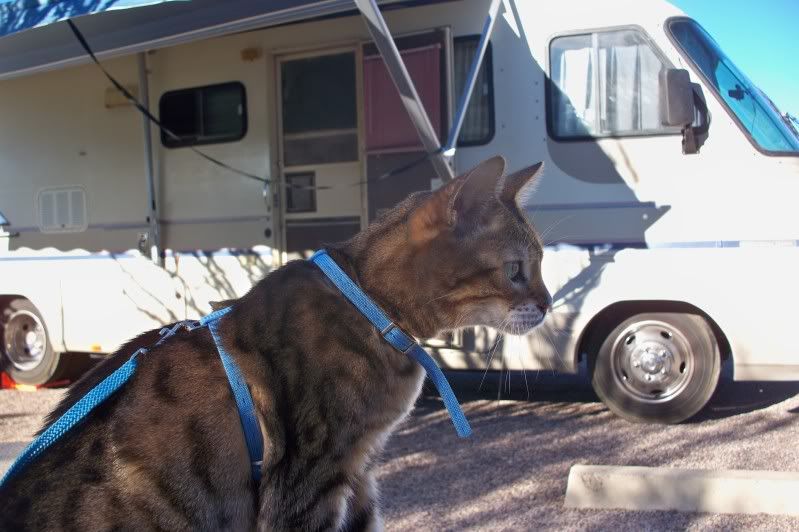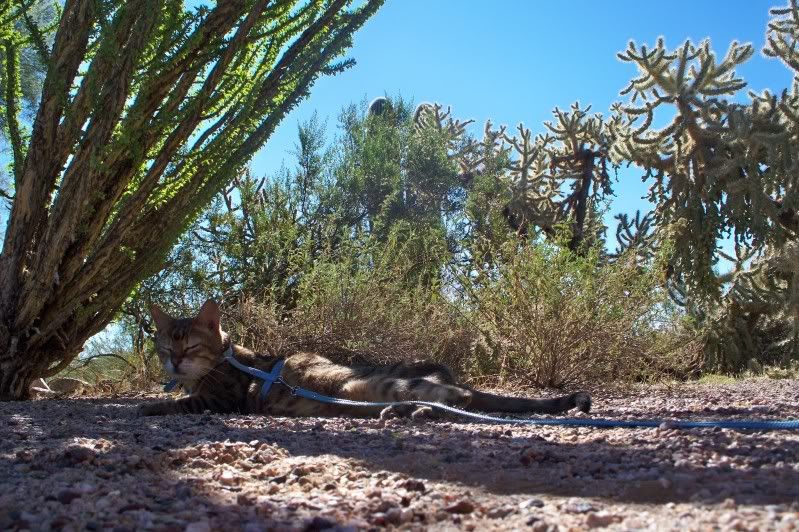 Maui is learning (the hard way) not to sniff the cactus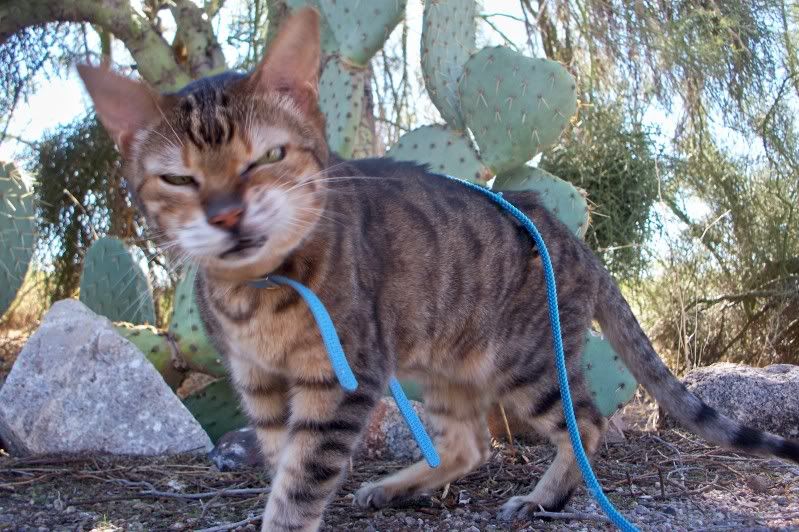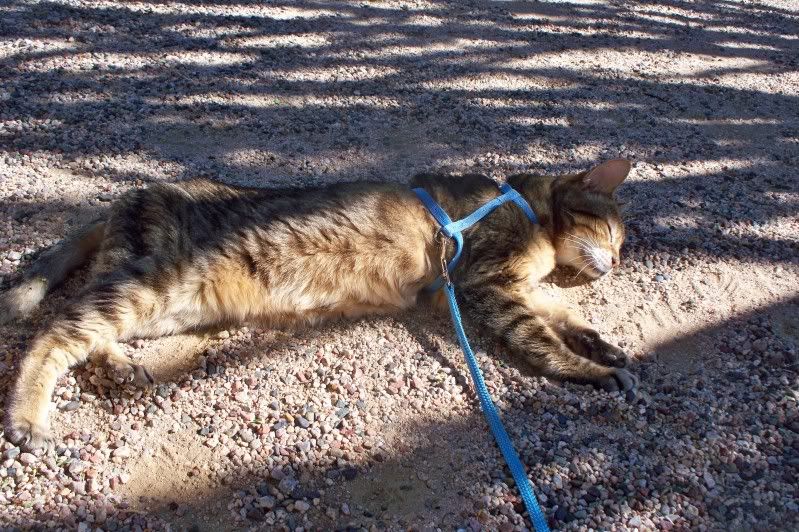 October 10, 2010 Sunday – Talk about the perfect day. Woke up to perfect quiet. Decided to lay in bed for a few before getting up cooking steaks on the grill, and watching the Browns football game.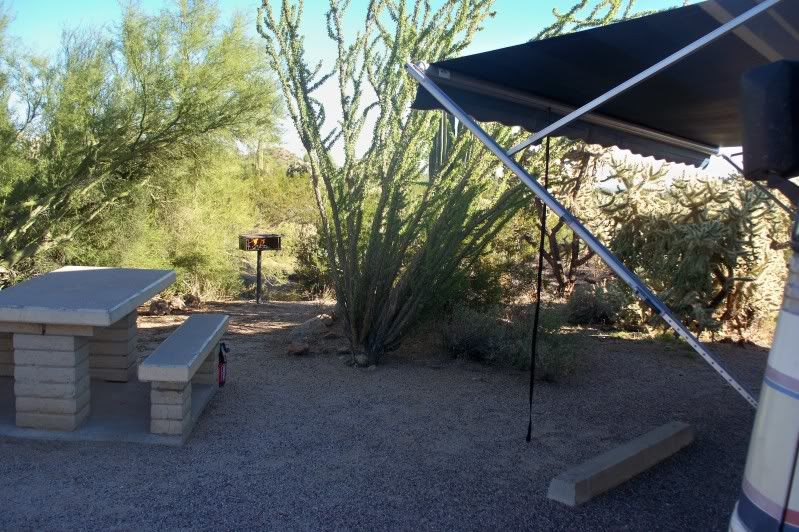 We decided to try extending the bedroom awnings. They both work, and provide some much needed shade out here. Still have not opened up the large awning on the drivers side, hate to have to tie it back up again.

October 11, 2010 Monday – Renewed our spot for another night. We have decided to stay here during the business conference, due to a few factors. Mainly where to park and boondock during the conference.
Maui really likes it here, he started whining to get outside as soon as we opened the door. We headed into town to stock up on some supplies. After returning to the park, we got set up again, and pulled out all awnings.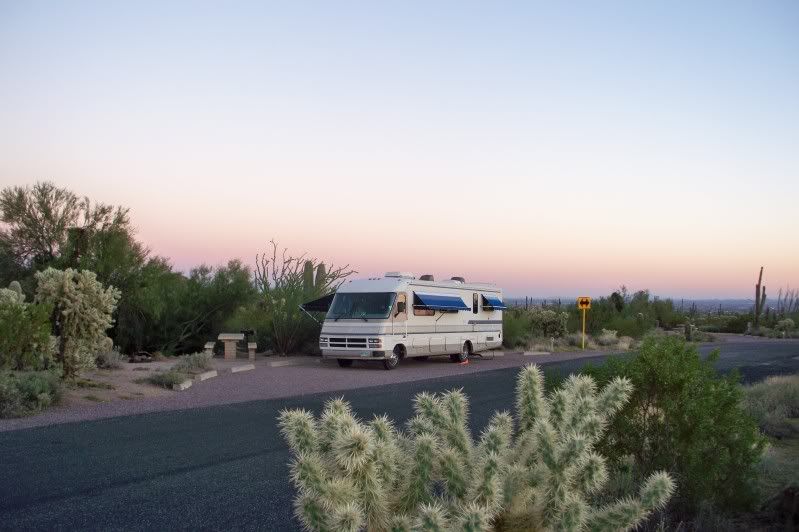 October 12, 2010 Tuesday – Spent the day working, and watching all the cool wild life out the window. Decided not to bother with the early registration at the trade show / conference and just take care of it tomorrow morning.
October 13, 2010 Wednesday – Today was the first day of the conference. There was a rug presentation by Lisa Wagner and some infomercial type presentations. Then the trade show, which was kinda like a customer appreciation day.
October 14, 2010 Thursday – Today was day two of the conference. Joe is a very entertaining guy. He is not at all what I expected. Not sure if his platinum group is quite right for me or our businesses, but I see where it could be helpful to some.
October 15, 2010 Friday – Last day of the conference. Afterward we went to dinner with Cory and Mikey at Old Chicago Pizza & Pasta. The pizza was really good.
Rachelle has the flu, so we will not be stopping in to visit with her, and instead we will be heading straight home.
October 16, 2010 Saturday – Decided to stick around Arizona till Monday morning.
Mark and I walked down to the nature center to see the cool stuff down there. I noticed that I still did not see the Tarantula spider in it's cage (it wasn't there the other day), so I asked the ranger about it. I assumed it was just burrowed under some dirt, but the ranger couldn't seem to locate it either. He did however show us how the scorpion glows under a black light. I will be sure to bring mine next time I go to the desert. Spent the day trying to get a little work done. The weather today was beautiful again.
October 17, 2010 Sunday – Listened to the Browns game (loss Pittsburgh) on the Internet. Other than that, we worked some and tried to enjoy our last day in the desert. Got the RV ready to hit the road again. I really like it here, I think Arizona has become my new favorite state. I really dislike having to leave here and head home.