Winds Blowing in Wyoming
September 5, 2010 Sunday- Woke up after a GREAT night's sleep. It was sooo quiet at Buffalo Bills in North Platte NE, we really hate to move on.
We got on the road and what do you know, … the awning decides to start coming loose again. It didn't completely open up like before, but it was only a matter of time until it would have. Of course it waited till we were in Wyoming, and the winds were really kicking up. Mark pulled off at an exit (not much of an exit really, just a dirt road). I climbed on top of RV and we tightened things up. It felt like the wind was going to blow me right off the RV.
We decided to stop for the day in Saratoga Springs, WY and let the winds die down a bit. Winds are 35mph with 45+ mph gusts today and blowing the RV around.
We are at the Saratoga Lake campground, a really nice quiet little place with a beautiful lake view, about 20 miles off I-80.
[mappress]
Drove about 375 miles today. North Platte NE to Saratoga WY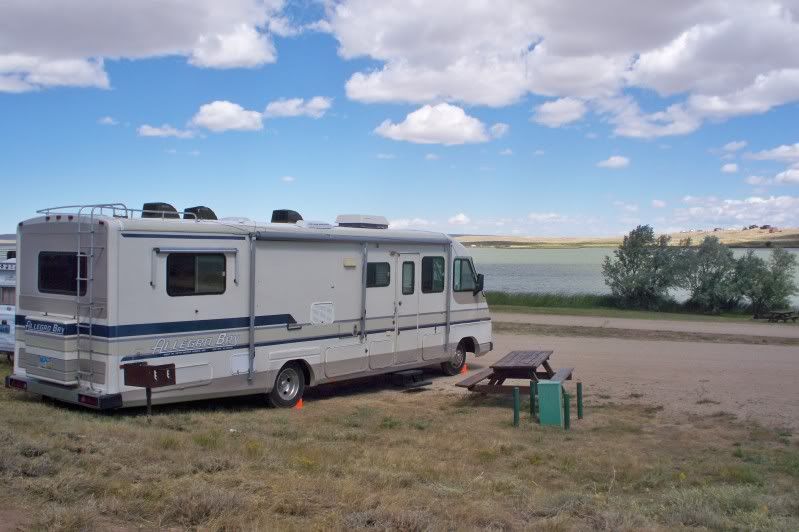 They have electric hook up which is good, because the temp is going to be in the 30's tonight, and the generator is now not running very good. Yes, another lovely perk to a very long day today. Oh well, we are still having a good time.
Took a nice relaxing walk around the campground before it got dark, Wow, what an amazing view.
September 6, 2010 Monday- Happy Labor Day! Slept great once again. There were a billion stars in the sky last night. It is still very windy today, so we are getting a late start leaving. The winds are supposed to be the worst in the morning. Check out time is not till 2:00pm so no huge rush. It's too cool and windy to go outside this morning, so we had some hot cocoa and tea, with our fruit for breakfast and enjoyed the view.

Today we will drive 350+ miles from Saratoga WY to Saratoga Springs UT.
---
Made it to Cory & Karen's house in Saratoga Springs Utah around 10:00pm. Cory ran us an extension cord, and we have power parked in front of his house.