Workamping in Saratoga Springs Utah
September 7, 2010 Tuesday- Slept good, but we are still so tired. RV lag I guess (like jet lag).
Woke up to a beautiful sunrise over the Wasatch Mountains and Utah Lake

Managed to get a lot of Internet Marketing and Website Design work done today for our clients. We had fallen a little behind as it was a little harder to work while moving down the road than we had anticipated.
We also worked on cutting the carpet samples for the Spot Master Championship competition on Saturday at SummerFest XII in Orem.
Mark, Cory, Karen and I all ate an early dinner at Texas Roadhouse. Mmmmm…steak.
Another long day, we will sleep good tonight!
[mappress]
Draper for Asian Buffet
September 8, 2010 Wednesday- Spent most of the day working in the RV again.
Scott, Ades and Kathy all arrived in town this afternoon. We met for dinner and Cory treated us to the Asian Buffet, which was really good. I found quite a few things there that I really liked. Mark was happy to find fried zucchini on the buffet and ate quite a bit.
[mappress]
SummerFest XII starts tomorrow. CCMT class in the morning.
SummerFest XII – Orem Utah
September 9, 2010 Thursday– First day of class today. I was dead tired, because Mark woke me up at 3:00am and I couldn't really get back to sleep. We all ate dinner at Golden Corral. I was over tired, and did not eat as much as I normally would have.
September 10, 2010 Friday– Last day of class, I did pretty good on my test. I finished a few minutes after Mark. After the test, we all raced across town to get to Bridgepoint to take a tour. We ate at Good Wood in Orem. The steak was really good and the prices were very reasonable.
September 11, 2010 Saturday– Today was the demos At Superior Solutions. Smaller turn out (25+), but it was still a lot of fun. Scott won some really good prizes, of course he bought a lot of tickets. Man of the Year was Scott Warrington, Woman of the Year was Lora Olson and Carpet Cleaner of the Year was Cory Kenyon. Ken Raddon and Terry Pickle won the Spot Master Championship. This year I was partners with Steven and Mark was partners with Scott. Afterwards, we all met at Tucano's for dinner. (Brazilian Steakhouse). Mark got the waitress and staff to come to the table and make Scott dance for his Birthday. The top sirloin was great, and Ades said 'death by chocolate' was really good too'. lol

Relaxing in Saratoga Springs UT
September 12 2010 Sunday – Got up and went to breakfast at MiMi's Cafe in Orem with Mark, John, Lora, Ades, Kathy and Scott. Louisiana decor throughout so Ades felt right at home. The food was great.
Afterwards, Mark and I came back here and got some more Internet Marketing and Website Design work done for our clients. Scott headed to the airport to spend his Birthday flying home to Ohio while Ades and Kathy headed up to Park City to see the sights.
This evening we watched a couple of movies with Cory and Karen, then decided to turn in. We are probably staying here in front of Cory's house till we leave for Vegas. Cory and Karen are going to Vegas too, so maybe we can follow each other.
We need to get the generator looked at soon so we have some power on the road (especially for air conditioning while in the desert).
So far I really like being in the RV. I'm not sure I'll ever want to go home again. I've gotten some of the best sleep since we've been on the road. The bed could use a mattress pad, but we will take care of that eventually.
We are dead tired after the last couple of weeks. We've been going non stop. Its been great but we are glad we will get a break for a few days now. G'nite
Manic Mondays As Usual
September 13, 2010 Monday- Did not have to wake up to the alarm this morning, thank goodness. Typical Monday though, the phone rang so much it's difficult to get much else done.
We ran to Camping World during lunch and got a memory foam mattress pad and the stuff we need to tune up the generator. Mark changed the oil, one spark plug and the air filter, while I changed the hard to reach spark plug. Bud from Superior, who lives just up the road, came over with an oil wrench. Helps to have the right tools to change the oil filter. We are trying to get this thing straightened out. Sounds better but still not perfect. Still need to swap out the fuel filter, the one we bought at Camping World is not same as what is on there now.
Washed laundry today, which I really needed to catch up. Of course after I was finished, I found a few pieces of clothing that got missed.
Utah State Fair
September 14, 2010 Tuesday- Worked on website and marketing on my computer for a while, then Terry Pickle came over and Mark and Cory gave him some hands on training. They cleaned the upholstery and carpet in the RV, and then some carpet in Cory's house.
Mark, Cory and I ate pasta primavera for lunch. Later we met Cory at Bridgepoint to drop off the Man of the Year plaque to Scott Warrington.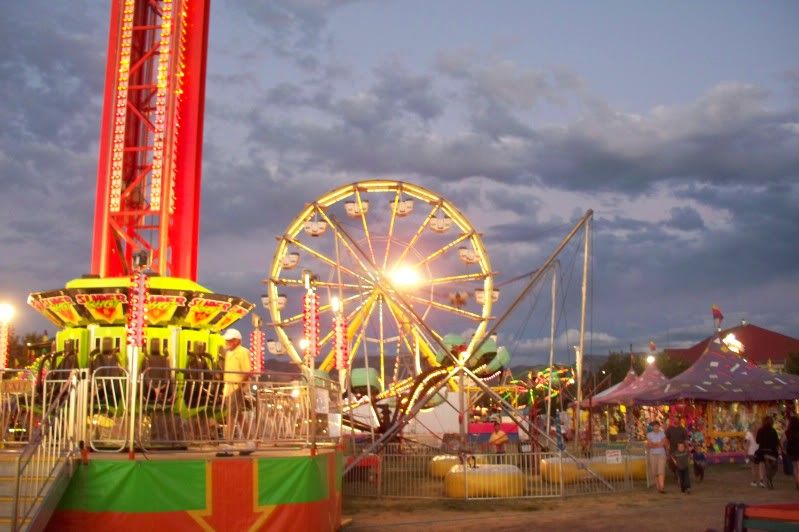 Mark, Cory, Karen, Steve and I then went to the Utah State Fair. It was quite a lot of fun, and I had a very good time. I ate a chicken gyro, but the chicken meat was a little too spicy for my tastes. The cucumber sauce was the best I have ever tasted though. I wasn't too sure when I first looked at it, because the color was a bit off. Mark ate a cheap $1 hot dog and slice of pizza.
We watched an act with some guy on a unicycle (not as good as the similar act at the Sunset Celebration in Mallory Square in Key West) and another act with a couple trained sea lions.
We went to the Fair tonight because there were supposed to be some comedians, but we never found the stage where they were performing. Cory later said he had found the stage, but did not bother watching the comedians due to ticket hassle (not many others watching either). Tickets were free with Fair admission but he would have had to go somewhere else to get them.
Utah Lake State Park, Marleys and more
September 15, 2010 Wednesday- We got a lot of work done today. Grabbed some Del Taco for lunch, then drove to Superior Cleaning Solutions to pick up an upholstery tool that got shipped there for SummerFest prize from Pembertons.
Then we stopped at the Harley Store in Lindon UT and ate sliders at Marley's. Pretty neat place.
Then we stopped for a visit at a Utah Lake State Park. Man do I love Utah. This area has to be one of the most beautiful places I've ever seen. If it weren't for the winters and all that snow, I could move here.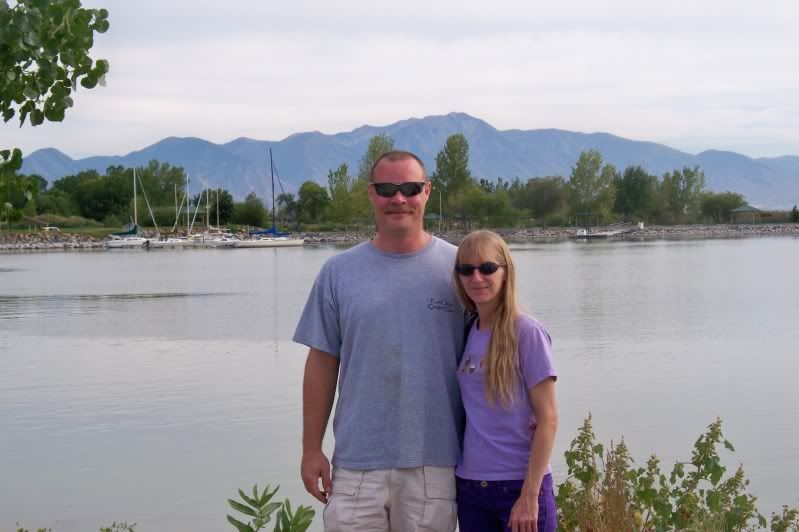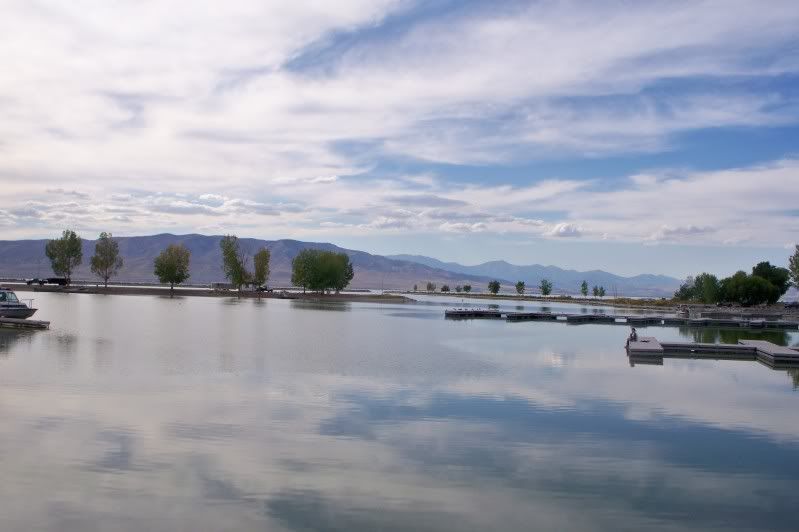 [mappress]
When we got back to Cory's house, I made tuna casserole for dinner. I thought it was pretty good, I hoped they liked it. I really have a taste for homemade pasta, too bad I did not bring my cavatelli maker. Oh well, I guess that will give me at least one reason to look forward to going home.
Fine Dining in Lehi at Thanksgiving Point
September 16, 2010 Thursday- Worked on the computer all day, stopping only to eat leftover casserole for lunch.
After work, Cory picked us up and we all went to pick up Karen.
On the way to Thanksgiving Point in Lehi we stopped at Cabela's. Cool store.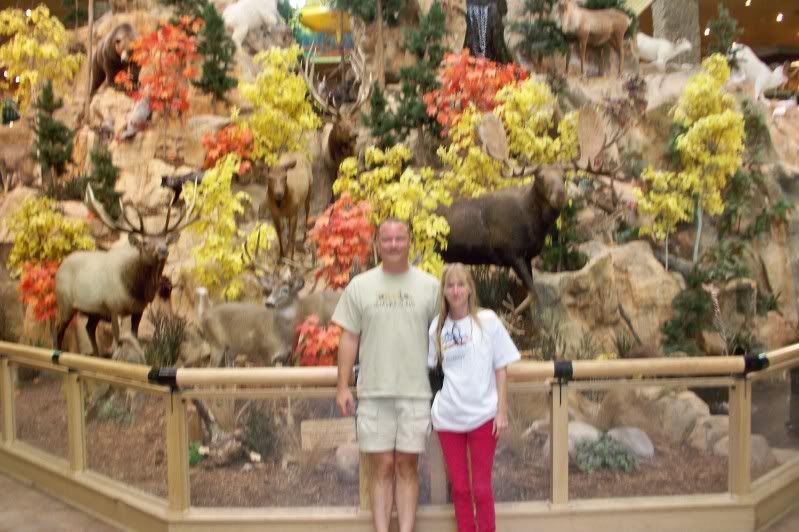 We all met with John and Lora for some fine dining at the "Harvest" restaurant at Thanksgiving Point. Good friends, good food.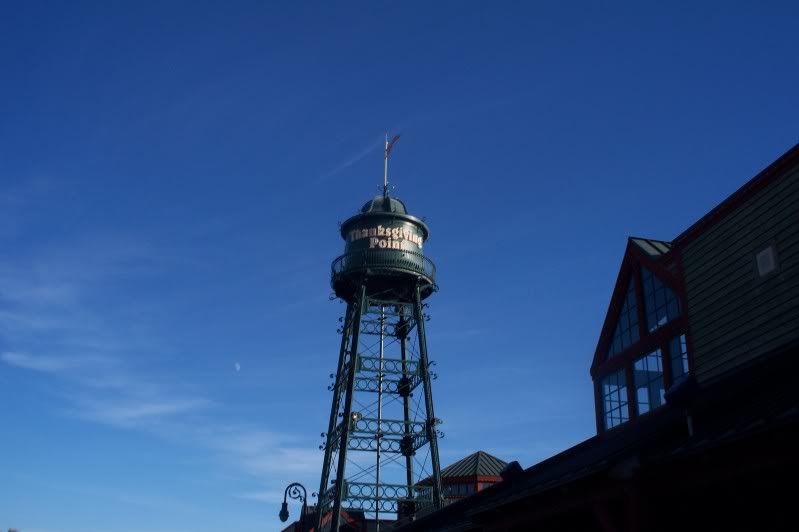 After dinner we walked around the garden (and waterfalls) for a little while, then toured an art show that was going on there. One of Cory and Karen's friends had a very nice painting on display.
Hard Working Vacation
September 17, 2010 Friday– Eeeek! We woke up to flooded carpet in the bedroom this morning. The fresh water line going into the toilet is leaking, so we had to pull back the carpet and pad in the bedroom. We are going to remove the carpet in the bathroom. For now we have an airmover, that Cory dropped off, drying it up.
I worked on websites and marketing during the day while Mark and Cory went out to clean some carpet.
We cooked chicken and veggie spaghetti and garlic bread for dinner for everyone this evening.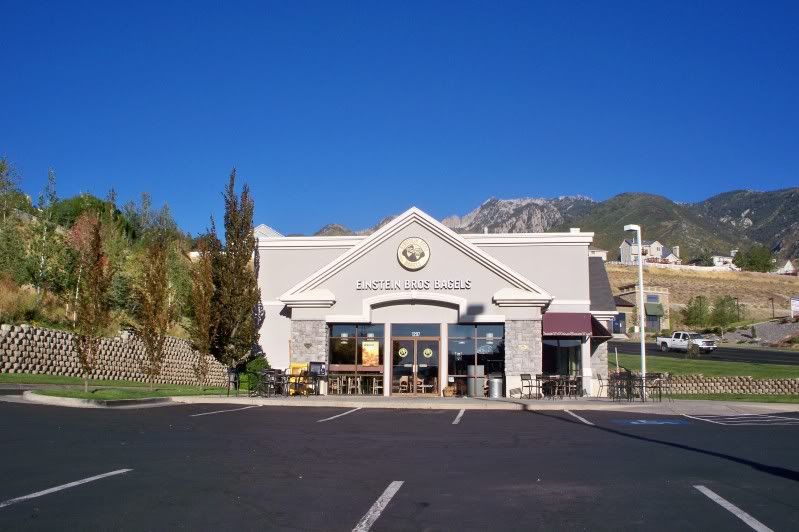 After dinner this evening we went to clean carpet and tile with Cory at Einstein Brothers Bagels. The first one in Draper had carpet and tile, the second in Orem just had painted concrete. It was a lot of fun and great to be able to help Cory.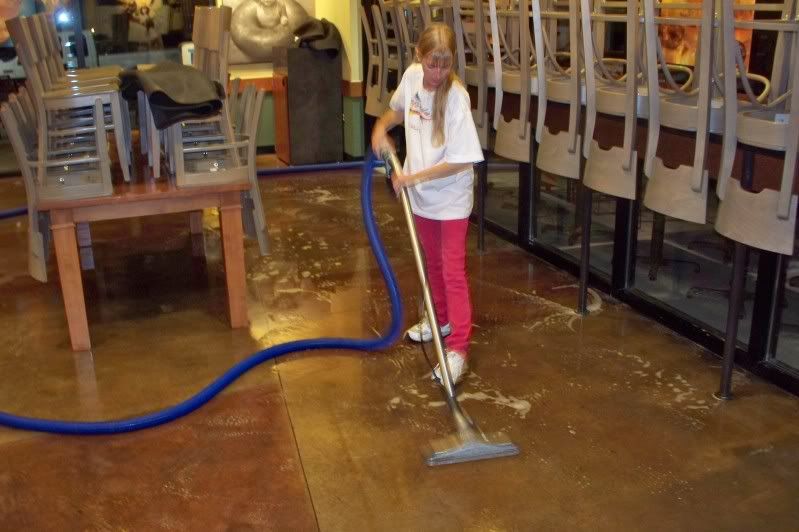 On the way 'home' (after midnight) Mark wanted to stop for something to eat and settled for Tacos. There are 24/7 Mexican restaurants everywhere here. I was not hungry, at least not till I smelled Tacos all the way home.
September 18, 2010 Saturday– First thing I did today was prepare a cheesecake so that it could chill for dinner tonight. I think I put a little too much whipped cream in it.
Spent the rest of the morning on the computer, then cleaning carpet and tile with Cory in the afternoon and evening. This time we cleaned tile in a store in Park City. Wow, it was a beautiful 1.5 hr drive up there. The fall colors are changing here, lots of reds.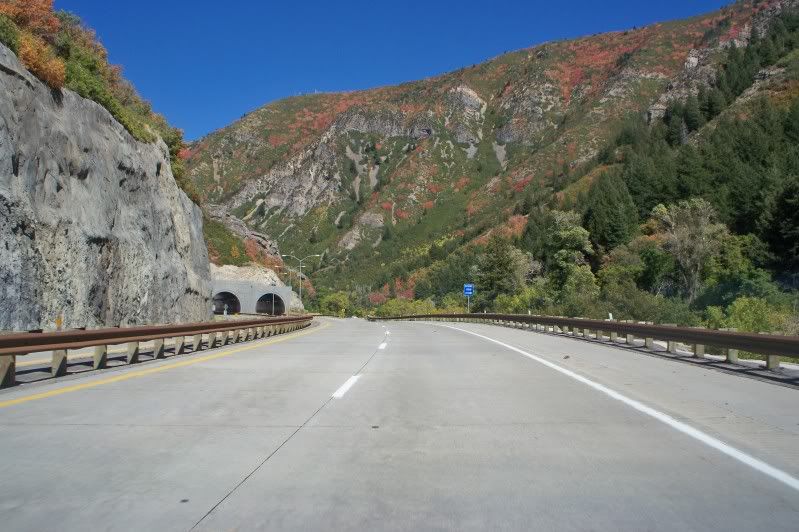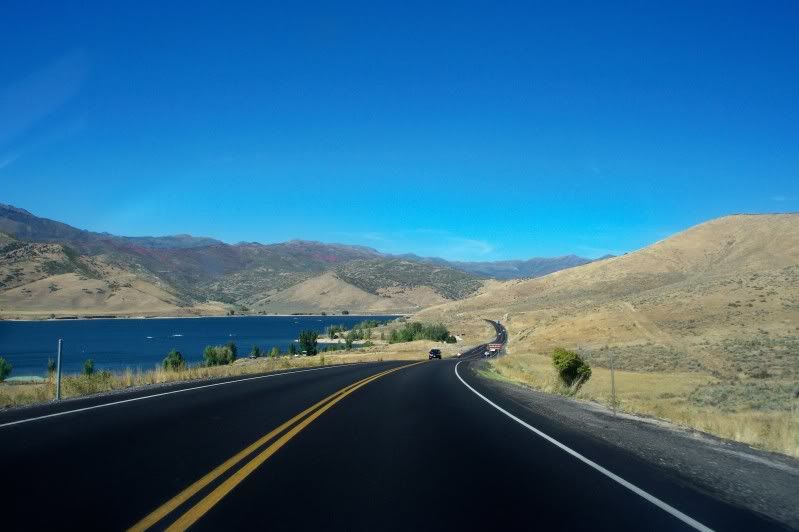 Then we drove to SLC and cleaned a larger store with carpet and tile. We started around 4:30 and finished up around 8:30. Not too bad, we then came back 'home' to Saratoga Springs and reheated some leftover chicken and veggie spaghetti.
I was right I did get too much whipped cream in the cheesecake. It wasn't quite thick enough, and it threw off the flavor a bit.

September 19, 2010 Sunday – Today we helped Cory clean 2 more Commercial jobs. One in Orem, the other in Layton UT.
We traveled all over northern Utah to clean carpet, tile and concrete floors the past few days. A lot of fun, but a lot of work.
[mappress]
After we finished the carpet on the second job, we were invited to a delicious steak dinner at Doug and Becky Payne's house. We had a really good time, what a wonderful family.
On the drive back 'home' we saw a wildfire in the mountains about 10 miles north of where we are parked. Its very windy today and not helping the fire fighters.

Looking forward to a few days of computer work and then heading south into the desert to boondock this weekend.
Loved SLC – Prepping for next leg of the journey
September 20, 2010 Monday– Uneventful day. We got a lot of work done for our website clients.
Terry Pickle stopped by to say hello. Cory picked up a couple of Little Caesars Pizzas for dinner. We watched a tv show or two with him, then headed out to the RV to get a little more work done before turning in for the night.

September 21, 2010 Tuesday– Computer work most of the morning, then worked on getting the RV ready to hit the road again. We are planning to head toward Vegas this Friday. We will spend a couple days in the desert first.
I fixed all of the cabinet arms, and repacked the basements. We got the fridge working…woohoo! However on a sad note, the repair tape we got for the fresh water line into the toilet did not work. Tomorrow I get to pull the toilet off and figure out whether I need a new valve, or whole new toilet. Bogus! Does not sound like a fun job, but neither was fixing the roof before we left.
We ran to Walmart and Smith's for supplies for the road. The weather was great today. It was supposed to be in the 70's but it was 85 degrees. Near record high again. It was however a little hazy and the mountains across the lake did not look as crisp as usual. Other than that, another perfect day in Utah! I am really starting to LOVE this state. I love the smell of the air, it smells clean.
September 22, 2010 Wednesday– Pulled the old toilet today, and it was toast. So we ran to Camping World and bought a new china toilet. They did not have either of the adapter kits that the box states you will need. So I installed the new toilet, but I had do modify the floor flange first. Got the stupid thing bolted down, but then the incoming water did not reach the new toilet. So we drove to Walmart, they did not have a connector, so we went to Lowes where we ended up with the wrong parts. So tomorrow we get to try again.
We ate dinner at the Asian Buffet with Cory and Karen. Mark loves their fried zucchini.
September 23, 2010 Thursday– Got the right parts for the incoming water today. Still need to staple down the new carpet, but do not have the right staples. Urgh.
September 24, 2010 Friday– Spent the morning working, and getting ready to leave.
We had a wonderful time in the Salt Lake City area. Cory and Karen have been absolutely amazing. We can not possibly thank them enough. We were very sad to leave, but excited about where the road ahead would lead us.
Finally on the road at 7:00pm. Only got as far as Cedar City, UT. We unintentionally stopped for the night at Flying J. We we just trying to get some food at the Wendy's but there was a bus load of kids there from a local game. Wasn't about to stand in line for 45 minutes, so gave up and went to sleep. There was an insane flashing billboard right next to us that made it difficult to sleep at times, but I guess you'll have that at a roadside parking lot.