The RV got really hot heading into Vegas, we were really happy to get hooked up at the RV park. We are staying at the Main Street Station RV Park. $16 a night, with full hook up (elec, water, sewer) it also has restrooms, showers, laundry and we can use the pool at the hotel.
Thought that we would just go to sleep, but of course we ended up going to Fremont Street. Mark got a couple of hot dogs, deep fried oreos and a deep fried twinkie. Then we came back here to get some sleep, or so we thought.
Vegas Again, Still …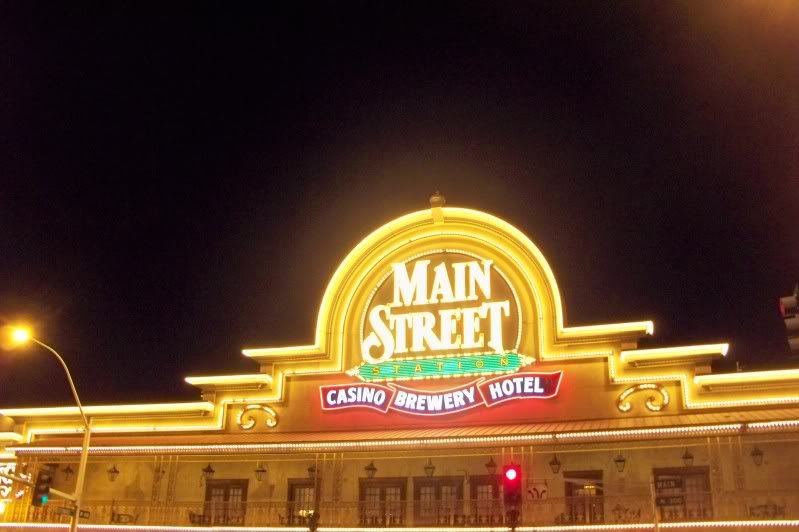 September 27, 2010 Monday– The Main Street Station RV Park is not only right next to the Main Street Hotel and Casino, but is also right next to a fire station and they had a couple calls last night, sirens blaring. We already miss Snow Canyon!
100+ degrees forecast all week!
Al arrived in Vegas today. His shuttle from the airport here was almost as long as his flight.
We went to get some pizza by the slice for lunch at Picadillos, a little eatery on Fremont St. Then walked back to the RV to get some more work done before dinner.
Good thing about the fire station being so close, Mark was able to borrow a little Internet and download the files necessary to get our Internet connection functional again. Router is not working but we got the aircard updated and working again.
Ended up at the Paradise Buffet in the Fremont Casino with Al and Mark Kling for dinner. The Roast Beef was very good but I wound up with food poisoning. I'm pretty sure it was the chicken Marsala as I was the only one in our party to eat that particular dish. I was also the only one violently ill for a few hours. It may be a long time before I'm willing to eat there again, shame as Mark loves their desserts.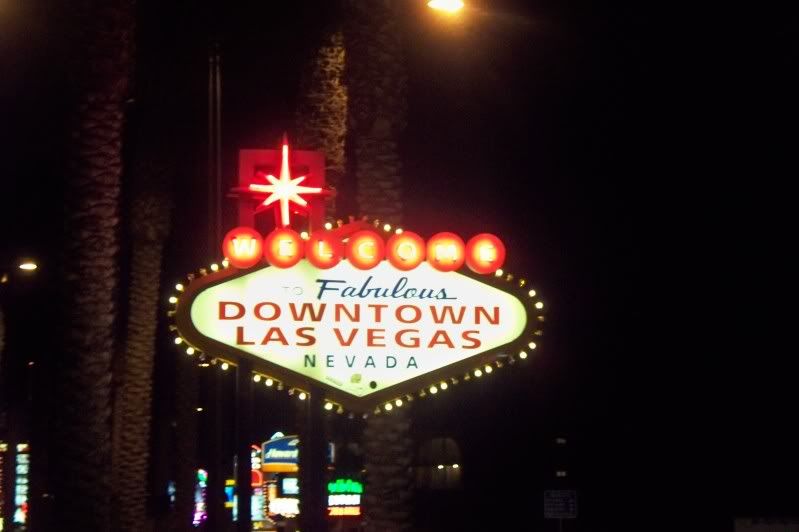 September 28, 2010 Tuesday– We woke up showered and headed up to Fremont. We walked around and finally decided to stop for some pizza. Not much sauce, but still pretty good. For dinner, we ate at the Main Street Station buffet. It was T-bone Tuesday, and the food was great. Mark mentioned wanting to stay till next Tues to hit this buffet again, lol.
September 29, 2010 Wednesday– Today is the first day of Connections Convention and Trade Show. Cory and Karen picked up Al, Mark & I and we all headed to the Hilton. Mark, Al and I went to the Hilton Buffet for lunch before the show. It was really good. After that Mark, Cory and I attended the Interlink presentation on Advanced Commercial Floor Care.
We all went to the trade show and looked around to see what was new. Saw a lot of people we know, it seems to take longer to get through the show floor each year. Not because the show size is larger, but because there are more friends to see and greet.

After we left we all decided to go to Fremont and walk around for a bit. The people watching here is unparalleled. We saw a couple Supermans, Spiderman, Mr Potato Head, Power Rangers, Gorillas, Jester, Prince, Kiss, Alice Cooper, Michael Jackson (white and black), Elvis (white and black), Darth Vader, Stormtroopers and more.
We stopped at Mermaid's again for Nathans hot dogs and fries. Cory and Karen decided to call it a day, so we headed back to the RV. For some reason a little later we decided to go back up to Fremont and walk around some more.

September30, 2010 Thursday– Hot again today and no wind to help things out. Al went out gambling this morning and won some money, so he rented a car. We ate at the Hilton Buffet again, this time I noticed the Italian wedding soup. Everything was really good again.
Then we cruised around looking at Vegas architecture and lights. We all went to the trade show and walked around for a while looking at the booths and visiting with more friends. At some point we decided to go relax in the RV for a bit before heading to a private Party. We had a really good time, there were some really nice people there.
We missed the Board meeting today as we had already RSVP'd to another event before they announced the date / time of the meeting. Can't be at both so we had to honor our previous commitment.
October 1, 2010 Friday – Last day of the Connections Convention. It rained for a couple of hours in the morning. Looked very overcast for quite a while, until after midday. The clouds seemed to cool it off a lot. Worked on websites and Internet Marketing for most of the day, then off to the trade show for our least favorite activity at these shows, saying goodbye to all our friends.
Afterwards Al, Mark and I ran to the store (Albertsons) for ice and supplies, then off to dinner. We ended up at Main Street Station buffet again. Friday is seafood night at all the buffets, which really sucks. Costs even more to have less food options, that we like (what a deal).
Al had to leave after dinner this evening, we really hated to see him go. Its been a great week (time just flew by). He called a few times and said he was a bit lost, and was not sure he would make his plane. Mark used the maps to help him find the right route and exit.
His plane was supposed to take off 5 minutes ago, and he hasn't called to say he missed it, so we hope all went well. Travel safe Al, see you again asap.
G'nite

October 2, 2010 Saturday – Woke up and spent the day working on websites an Marketing. It was a little rainy this morning anyways. We fixed spaghetti for lunch in the RV, then eventually walked to Mermaid's for hot dogs and fries for dinner. Then walked off dinner and came back 'home' to the RV to get a little more work done. Need to catch up a bit after spending so much time with the Convention. Even when not manning the LMCCA booth, it seems to take up a lot of our time. Well worth it though.
Saturday night was crazy on Fremont. Most people I've ever seen there.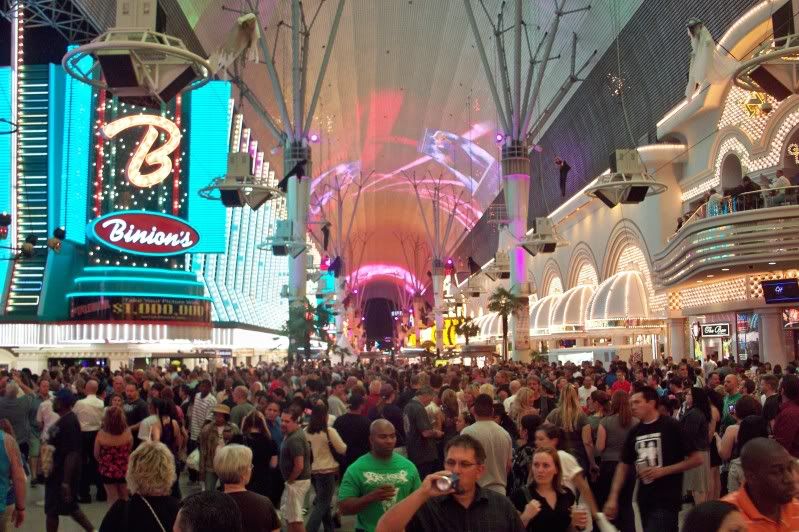 October 3, 2010 Sunday – Still in Vegas (enjoying a good Internet connection & getting some work done) while waiting on replacement computer parts (cradlepoint router) to arrive before heading into southern California and the Mojave desert for a few days.
It rained for a while again this morning, so we took the opportunity to get work done.
We walked up to Fremont Street this evening and it was a lot less crowded than it was last night. We stopped at McDonalds for a milkshake and ended up eating a quick snack before heading back 'home' for the night.
October 4, 2010 Monday – Today the RV park is down to about a dozen campers. Big difference from the weekend, when there were barely any spaces available. Considering what a large crowd there was staying here, it was still very quiet. Other than hearing the occasional siren from the fire station and of course motorcycles all weekend, it was fairly peaceful around here.
After working all morning, we walked to a pizza place on Fremont (Uncle Joeys), but it was closed on Mondays. So instead we grabbed hot dogs and fries from Mermaids again. We got 3 dogs, fries, soda and a chocolate covered banana for $7.00 not a bad deal. Back 'home' and back to work.
We walked to Main Street Station for buffet dinner. It was good as always. The wind picked up this afternoon, and the temperature dropped outside quite a bit. It was 69 degrees out when we were walking home from dinner. I wanted to go for a walk after we ate, but it was way too chilly for that. We just hurried back here instead.
October 5, 2010 Tuesday – Another day of working on the laptop. The couple in the space next to us pulled out today. The temperature was much cooler today. Mark laughed because most people consider 76 degrees perfectly acceptable, I like it a bit warmer than that. We went to Tbone Tuesday at the Main Street Station buffet and waited for our router to get here.
October 6, 2010 Wednesday – Still waiting for the router to arrive, it was supposed to be in route but still not here yet. The hotel, said it is probably at post office, and they will pick it up in the morning. Limping along getting as much work done as possible.  Had lunch at the Main Street Buffet again. Good as always.